Over the past 12 months, remote working has become the new norm, and many businesses are now considering regular remote working as part of their flexible working lifestyle. Using the cloud greatly supports flexible working, giving users access to data wherever they can access the internet.
There are different types of cloud computing available, but using the cloud essentially means that data is stored securely in data centers which can be accessed via the internet. There's no need for servers or network attached hard drives or office-based networks, solving many common challenges faced by small and medium sized businesses.
A survey by Talk Business looked into some of the core challenges that small and medium businesses face, all of which can be resolved by moving to the cloud.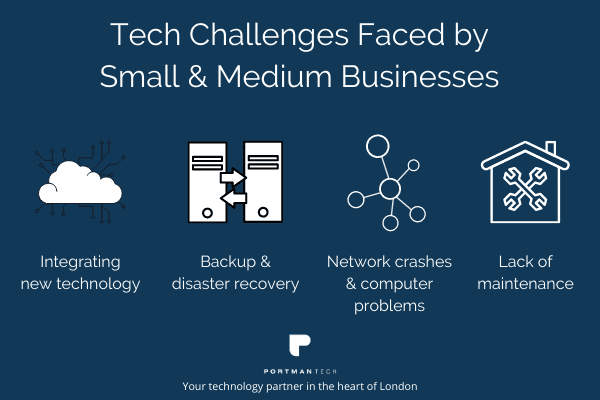 Over and above these points raised, moving your business into the cloud can add real benefits to productivity, cost savings and scalability.
3 key benefits of using the cloud
1. Collaboration
One of the core advantages for businesses using cloud solutions is collaboration. Having the ability to seamlessly share, access and edit documents at any time and from anywhere and through any device is more important now than ever.
Multiple users can work on the same document at the same time, making updates in real-time and in turn enhancing productivity across the organisation. There's no longer the risk of using an out-dated document or trying to keep track of the latest version.
Interoperability means that employees can easily access files across multiple devices, whether they're working from home or need to access a document whilst they're on the go. Cloud solutions enable collaboration, wherever you are.
If your employees are still trying to collaborate across multiple disparate and siloed applications, it may be time to consider moving your processes to the cloud.
42% of companies cite their main reason for moving to the cloud as the ability to access data anywhere

Sysgroup
2. Flexibility
Using a subscription based cloud offering gives flexibility to scale up or down depending on the needs of the business. Think of it as a 'pay as you go' structure, a versatile way to upgrade to a higher capacity as needed and paying only for the resources that you require.
For example, Office 365 is a cloud-based subscription model of Microsoft Office, with various packages available depending on the needs of each individual business. As it works on a subscription basis, it's ideal for businesses that are growing. Equally, it gives businesses the flexibility to scale down if required, with no lengthy contracts.
Also, your employees will have access to the latest version of the software as opposed to purchasing or updating the latest version each time it is released.
3. Stability
Using a trusted brand for your cloud needs, such as Microsoft, Amazon or Google, gives a much greater level of stability and resilience compared to smaller hosting providers. With data centres across the globe you can rest assured your data is secure with a trusted provider.
It's also common for smaller providers to have certain limitations, such as smaller mailbox sizes, or the inability to access files across multiple devices. Using a large public cloud provider, such as Microsoft, grants access to enterprise-level services with vast amounts of space available, whilst remaining on a payment plan suited to your business.
In 2021, the public cloud infrastructure will grow by 35%

Hosting Tribunal
There are various types of cloud service offerings available, depending on the individual needs of the business. Whether you need to migrate to the cloud or you're already there, we will consult with you to fully understand your IT needs, so that we can recommend the best solution.
Read how we provided EDP Environmental with a cloud solution to improve their collaboration across multiple offices.